Life-Sustaining Essentials for a Season of Trial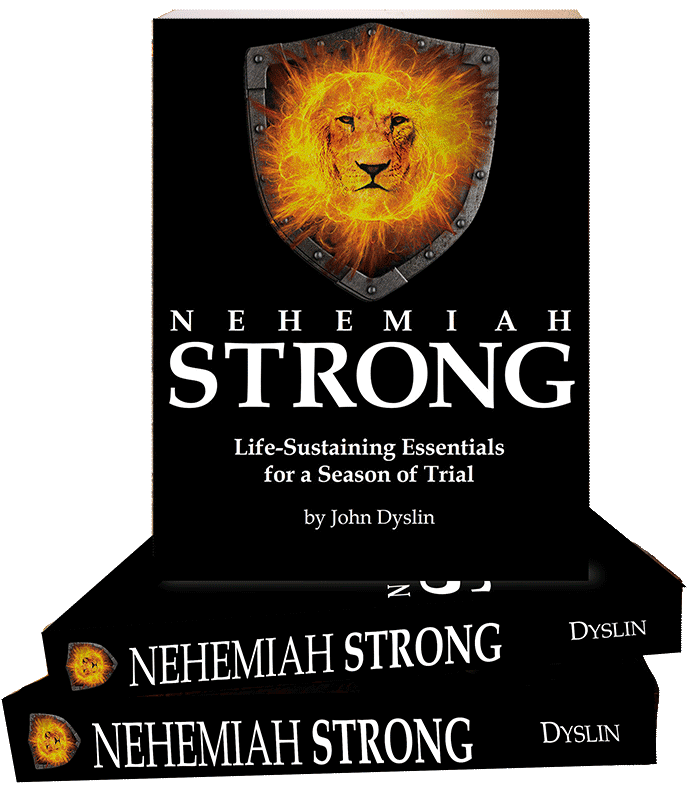 We live in unprecedented times, with unprecedented challenges.  Christian-based societal foundations have vanished; in their place is a 'new age' spirit proclaiming what once was evil as good, and good evil.  Authorities are using a thin veil of propriety to justify invasive actions – including lockdowns, compliance enforcement, and persecution of 'unfavored' groups – that threaten the liberty and well-being of you and all those you love.
NEHEMIAH STRONG was created for just such a season, incorporating indispensable information – first for the believer, and also for nonbelievers.  This 480-page reference contains original content, analysis, strategies and encouragement to equip you for victory, plus numerous source-linked materials for an array of emerging challenges.
'Broken Arrow' is military parlance for enemy combatants within friendly territory; that, my friend, is where you are.
NEHEMIAH STRONG reveals psychological deceptions, exposing the manipulation.  It then provides a condensed situational assessment, illuminating the battlefield and revealing predictions for where we're headed.
Veteran instructors teach that the warrior mindset is the most essential skill for victory.  NEHEMIAH STRONG digs deep from a Christian context, exploring
how fear is an insidious, disempowering lie

our weapons and authority, and 

how we are called to exercise it.
You were born for such a time as this; embrace your calling.
Building on the warrior mindset, NEHEMIAH STRONG leverages teachings from past church fathers to reveal believers' astounding authority.
It reviews the Scriptural doctrine of authority, including for spiritual combat, judgment, and all things, as well as wielding it to win souls and conduct spiritual warfare.
Here's where the rubber meets the road. NEHEMIAH STRONG comprehensively details practical application of spiritual warfare, including
Forms of spiritual attack

Specific response tactics.
The principles are clearly included in an in-depth spiritual warfare vignette.
You possess formidable legal rights your adversaries don't want you to know.  NEHEMIAH STRONG unveils our Constitutional rights and essential federal law to hold violators accountable, as well as violations of oath, civil remedies, state law, and the doctrine of lesser magistrates.
Local minions implement globalist policies.  NEHEMIAH STRONG exposes hidden agendas and trained manipulations your local boots-on-the-ground employ to trample your rights. 
Hint: your adversaries are taught to lie and cheat.
A house call is theater designed to secure your gullible compliance.  You'll understand the engagement and seize the narrative.  
NEHEMIAH STRONG  includes numerous tactics and tools, extensive public servant questionnaires and Constitutional signage, putting your guests on notice that you are the king of your castle. 
The lone defender strategy will prove ineffective against future challenges.
NEHEMIAH STRONG provides detailed advice regarding vetting, forming, organizing, and communicating within a team, so uninvited guests are outmanned and outfoxed.
Truly, you can do all things through Christ who strengthens you!
NEHEMIAH STRONG will reinforce your footing on your sure foundation with:
A 'Nehemiah Prayer' tailored for such a time as this

An enhanced Roman Road for those needing hope

Unique revelation on the Armor of God, and

Russ Dizdar's priorities for a Spirit-filled walk.
Our world is an unconventional battlespace with innumerable 'attack vectors.'  NEHEMIAH STRONG provides resources for a host of other challenges including:
Emerging bioweapon threat details & potential antidotes

ChiCom flu and injection hypothetical remedies

Legal defense against in-school injections

Home invasion countermeasures

Optimal home defense platform build-out

Detailed communications overviews – smart phones; apps; radios; sat phones, and

Over 100 site recommendations for online information and physical resources.
Reader Reviews
So much USEFUL, validated information from an author who truly knows/cites the Bible AND our US Constitution!  Written from the heart!  I appreciate the easy-to-read layout, along with blunt, yet tactful honesty on the seriousness of what is happening in today's world.  As a Christian this read was a big wake-up call and nudge to start working on our individual plans for our future, along with constant prayer.

This book truly is so detail-oriented and valid. The citing alone is incredible.
I'm hugely intrigued by this book!  John covered everything!  NEHEMIAH STRONG is a comprehensive encyclopedia/manual for these days of uncertainty.  It is very well researched and will help you in every imaginable emergency situation.  It will equip you for survival and put you in a position that will allow you to help others.

If you are someone who is searching for answers, you just found it!  Nehemiah Strong will challenge you while keeping you grounded for the main event – Christ's return.  You need this book!

Thank you John for writing this book!
This work will stir your faith, equip you for the fight, and secure your peace and joy in our God and His Son Jesus Christ.  Oh, and also…keep your thesaurus close by!
The book makes you aware of the magnitude and source of the attack on our institutions and values.  NEHEMIAH STRONG will teach you the strategies and tactics of this attack and why it is spiritual at its core.

Learn how to recognize it and to prepare to protect you and your family physically and spiritually.  This book is a must if you want to get prepared, while being encouraged too.
I found NEHEMIAH STRONG to be profound, informative, and a necessary read in today's climate.

I especially found the Spiritual Warfare Toolbox section to be most informative as it relates to my rights, safety, and protection from "authorities".

A must, MUST read!
Thank you John for this bold reference and guide that places helpful information all in one manual.

An encyclopedia of materials that we need for this day and age.
NEHEMIAH STRONG  is a tremendous read!  It's very thorough, detailed and technical writing, and well supported with sources and more importantly scripture! 

The amount of thought, study and labor John put into this is obvious.  It's a call to preparedness, and a call for action! 
About the Author
John Dyslin has been a student of 'alternative' history and world events since 2007, and a lifelong student of Scripture and Christian doctrine.
Following careers in finance and as an internet entrepreneur, he turned his attention to today's emerging issues, including training in counter-human trafficking, pistol and rifle tactics, Ham radios, comms, and scout tactics.
John was turned around in his life by Jesus Christ in 2014, and is a blood-bought chief sinner who strives to do his imperfect best to follow Jesus' plan for his life.